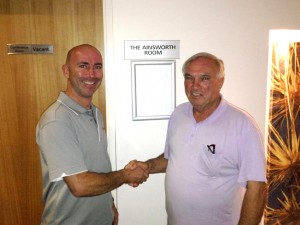 We were fortunate enough to have Geoffrey Ainsworth stay at the hotel recently.
Geoff is a direct descendant of Captain Thomas Ainsworth of whom we named one of our on-site conference rooms after in honour of our local history.
Captain Thomas Ainsworth born 1812, his wife Helen Laverty and three children arrived in the Richmond area in 1847, from the South Coast. Thomas was transported to Australia as a convict, in 1831, then became shipwright, who owned his own small vessel 'Matilda Ann'. Thomas decided to settle his family in Ballina after bringing supplies from Sydney to the squatters on a number of occasions. On the return supply trips Thomas took tallow and cedar for sale for the settlers.
Thomas built the 'Sailor's Home' Hotel at East Ballina in 1853. Thomas resided on North Creek before he drowned in the flood of 1864. He was only 53 years of age.
Thomas and Helen Ainsworth's children were James, Jane and Susan Ainsworth. James married Christina Williams in 1863. Jane Ainsworth married Charles Coleman and Susan Ainsworth married James Ross.
James Ainsworth was one of the first selectors of North Creek. He was a sugar cane farmer, a timber getter and a carpenter. James retired to Ballina and served as an Alderman on the Ballina Council.